STUKAS OVER BEDROCK-BACK TO THE STONAGE LP 2007 PUNKRECORDS #2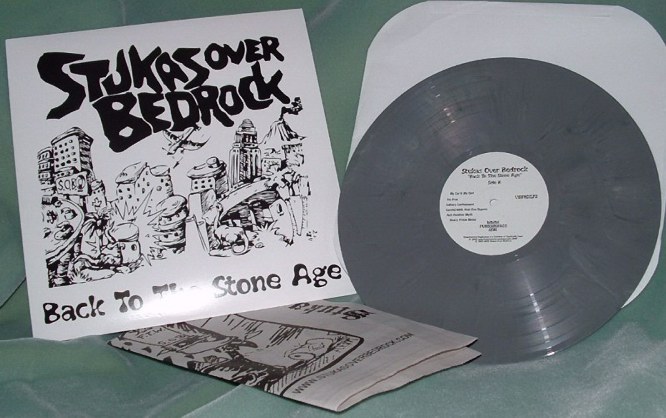 STUKAS OVER BEDROCK - Back To The Stone Age LP
To Place Order & Find Shipping Coast ,Request Bill- Email Me: NEKRON425@COMCAST.NET
PUNKRECORDS #2
Format Released on : Vinyl
Insert Type : Poster
Color Wax : Gray Wax, White Wax
550 GRAY WAX
550 WHITE WAX.
25 Numbered Copies "Back to the Stoned Age Edition 2xLP" With A Large Booklet Insert
10 TEST PRESSINGS
Infamous Hollywood Punk Band Releases There once Lost Recording Session Featuring The Original Line Up From 1983 . This Pre-Dates There 1st Album By 2 Years. Art Work By Art Moralas Better Known For The Art Done For The 1st Social Distortion Album Mommies Little Monster.
Formed in 1982, Stukas Over Bedrock was one of the pioneering bands in the Los Angeles underground music scene. Stukas Over Bedrock made their first musical mark with the 'Life Like Yogi' ep in 1983, which received airplay on the "Rodney on the ROQ" show on the influential Los Angeles radio station KROQ. The song quickly rocketed to Number 5 on the Rodney Bingenheimer (KROQ)/Flipside radio chart. The ep is now unavailable, as a disgruntled former guitarist reused the masters after leaving the band. ( the original master tapes were actual found in the closet in the summer of 2006 ,these recordings are what make up this album "back to the stone age" recorded in hollywood,ca in 1983 in two sessions)
The Stukas made contributions to Mystic Records' "Party Or Go Home" and "Covers" compilations as well as to various independent cassette compilations. The Stukas launched their 2nd assault in the form of the full-length album 'The Age of Aquariums' in 1985, released on the Happy Squid label.
LIMITED VERSION "BACK TO THE STONED AGE" 2xLP
HAND NUMBERED & STAMPED OUT OF 25 WITH BOOKLET INSERT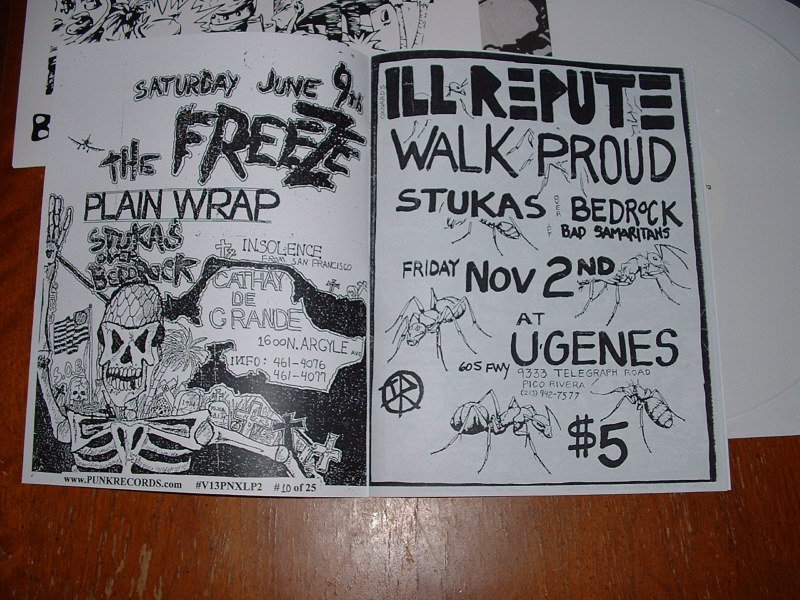 Notice Every Number Exclusive For Each Record: