STILLBORN-ANSWERS LEFT UNQUESTIONED LP or CD PUNKRECORDS #V13PNX8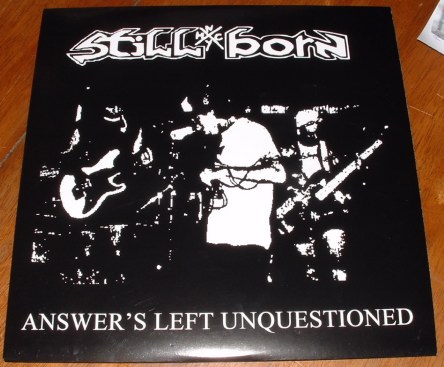 STILLBORN-ANSWERS LEFT UNQUESTIONED LP
To Place Order & Find Shipping Coast ,Request Bill- Email Me: NEKRON425@COMCAST.NET
Song Sample:
Dying For Progress
PUNKRECORDS #8
Format Released on : Vinyl & CD
Insert Type : Booklet
Color Wax : Red Wax , Black Wax
Vinyl is 30 Songs
CD 35 Tracks
Vinyl has 30 Songs, the CD has bonus songs for a total of 35 tracks one track being a in live studio radio.
This band existed from 1985-1988 played only in the New York area, with all the great bands of the time period & clubs. Sound is very similar to early Agnostic Front & early DRI, Urban Waste or The Mob, But very original musically truly Stillborn. Fast and Brutal Intense Hardcore, Recorded in 1986-1988 the band members were very young when these recordings were made, this Hardcore is not to me missed! Vinyl contains a booklet with flyers and history of the band.(song samples on cdbaby.com)
200 Red Wax 800 Black Wax
StillBorn Was Formed In Brooklyn,NY At The End Of 1984 By Diabolical Dave Baskin And Andy Guida. A Few Months
Later Terry Rosenzweig And Mike Catricola Joined The Band. After A Year A Rehearsals They Recorded Their First
Demo "Dying For Progress" Soon After It's Recording Andy Left The Group.
The Search For A New Guitarist Was On, Enter The Final Piece Of The Puzzle, Mike Fringo. Stillborn Was Finally
Complete. Entering The Studio Right Away They recorded Their Next Demo "Answers Left Unquestioned" Which
Consisted Of 10 New Songs And The 10 Songs From The First Demo Rerecorded. The next Year Was Spent Playing
Live With Such Great Bands As Nuclear Assault,Warzone,Token Entry,Sick Of It All,A.O.D,Sheer Terror And More.
1987 The Band Went To Sty In The Sky Studios To Record Their Next Tape "There For The Taking" With Josh
Silver(Now With Type O Negative). Playing In The NY,NJ Area The Band Started Venturing Out With Show's In
Albany,Maryland, And Washington(Almost). Stillborn Had Two Songs Selected To Appear On The "Shot Heard Around
The world" Compilation. In 1988 With The NYCH Scene In Decline, The Band Headed Back To Sty In The Sky To
Record It's Last Demo "Scorn Of Absence" The Tape Was Never Released And Stillborn Played Their Final Show In
January Of 1989 At The Right Track In Long Island,NY.
Great Times And Lots Of Stories, Most Notable Was Our Headline Perfomance At CBGB's Sunday Matinee In 1988.
The Scene May Be Gone But the Music & Memories Live On......
Check out the stillborn facebook page- it has a lot more photos and info on there: https://www.facebook.com/StillbornNych
some reviews :
*Stillborn "Answers Left Unquestioned" (Punk Records) – Fuck! This rules so hard. It's really fast straight forward 80s NYHC, but without any breakdowns or mosh riffs or metal. This is a collection of some demos from back in the day- this is the kind of stuff that I love running into, what keeps me interested in punk even though I'm old and boring now. Man, if this had seen a proper release in 1987, this could have been up there with Straight Ahead or Victim in Pain. Totally worth your time. http://newwaveorthetruth.wordpress.com/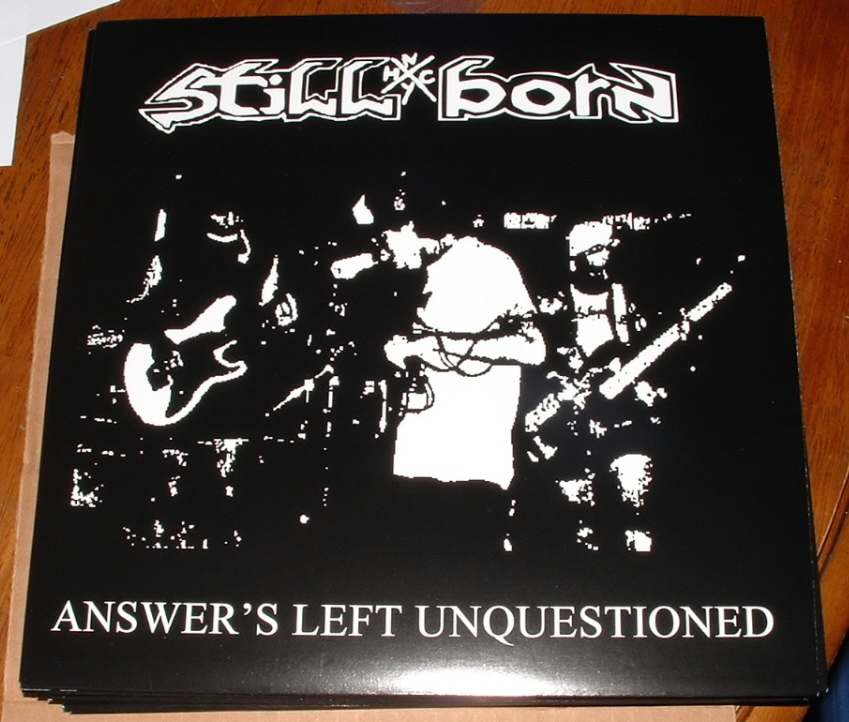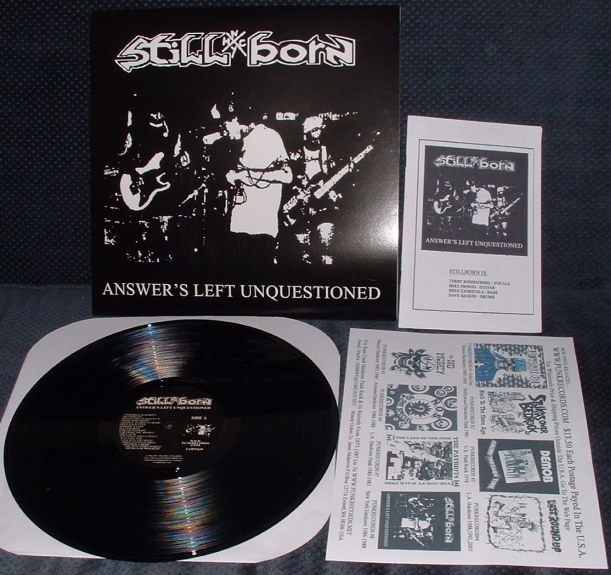 The Cd 35 Tracks
The Last Track is a Full Live Set, Live In Studio, on The Radio & its about 15 Min Long.
this is exclusive to this CD.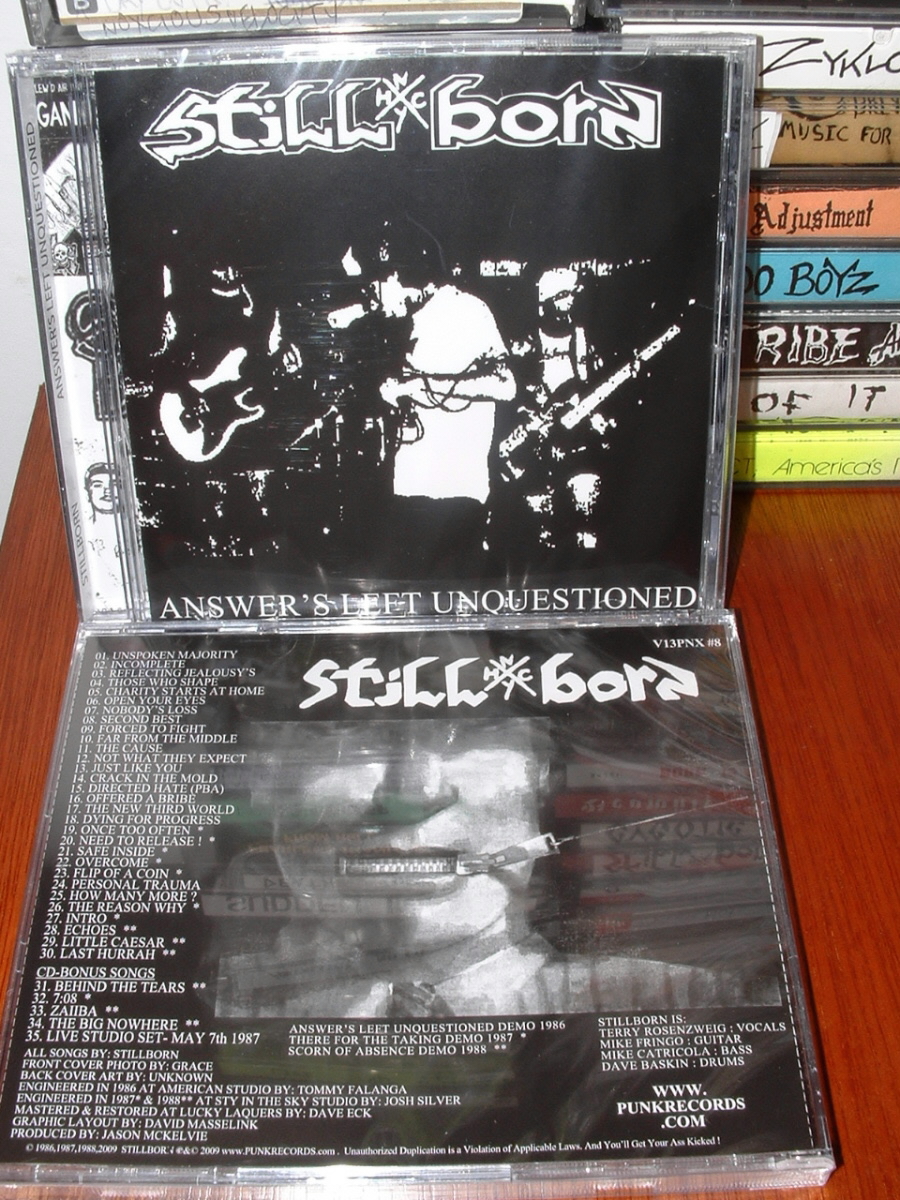 STILLBORN-ANSWERS LEFT UNQUESTIONED LP or CD 1986-88
FOR USED AND RARE VINYL GO TO MY OTHER WEB PAGE :