GENTLEMEN OF HORROR - LIVE IN KELOWNA 7"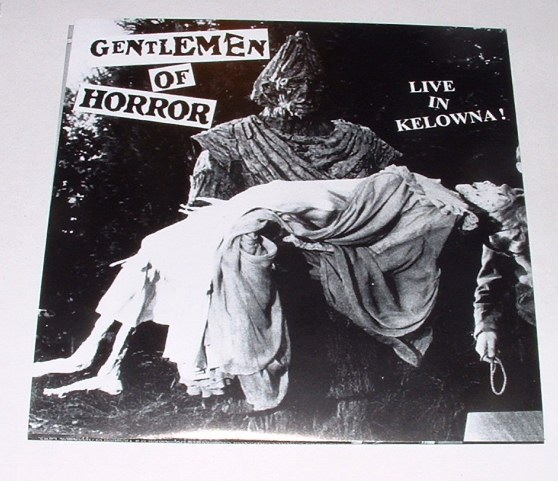 GENTLEMEN OF HORROR - LIVE IN KELOWNA 7"
To Place Order & Find Shipping Coast ,Request Bill- Email Me: NEKRON425@GMAIL.COM
Song Sample:
Live : Crime Watch / Block Parents
PUNKRECORDS #13
Format Released on : Vinyl
Insert Type : Booklet
Color Wax : 300 Black Wax, 200 Red Wax, (the Green Wax Comes with a glow in dark sleeve ONLY 100 MADE)
Limited Pressing of 600 Made
7 Songs
some history about this band:
One incredible gig took place in the Kelowna's main park in the summer of 1981. Tom signed the contract to rent the bandshell (he was only 14) by posing as the front for an ordinary rock band. Then they quickly plastered the town with posters announcing a punk rock concert. The city fathers were outraged. "They called Tom up and threatened to pull the plug on the show. 'We've got a contract', Tom countered. 'There's nothing you can do about it.'" The big day arrived and there was a traffic jam to get to the park. "Everyone was there, including the mayor. They couldn't wait to find out who these freaks, these punk rockers were. When we took the stage it was great. People were throwing bottles at us."
After then show they packed up the gear and the excitement continued. A crowd started hurling and charting "kill the punk rockers." They'd obviously stirred up the hypocritical citizens of Kelowna until they were ready to commit violence to keep the peace. That was the first and last time Gentlemen Of Horror tried to bring punk rock to the general public in Kelowna. This 7" Documents that gig. Plus one Song From 1982
The band made it down to Vancouver several times to play, including backing up the Subhumans at the Smiling Buddha in 1981.
With the influence of bands such as the Subhumans, Black Flag and the Circle Jerks, and the trend in the punk scene to speed up the aural attack, Gentlemen Of Horror started verging towards a hardcore band.
below: The Green Wax 100 Made With Glow In The Dark Sleeve Only 100 Made
below: side by side ,Left Glow in The Dark , Right Regular Sleeve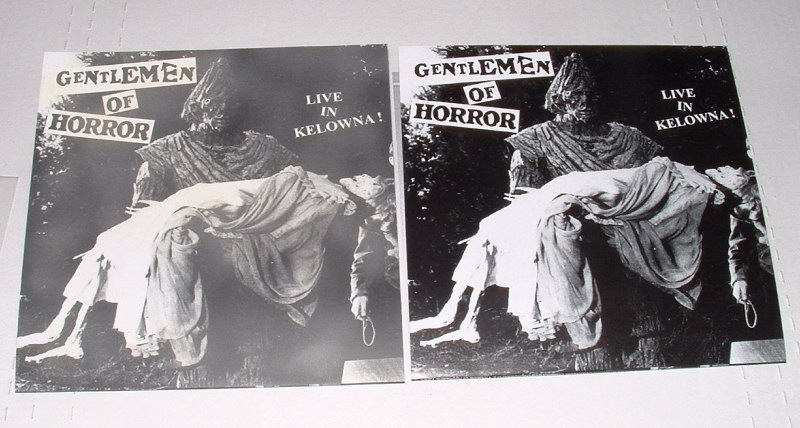 Red Wax 200 Made:
Below: Sleeve is a Fold Open Insert
Back Of Sleeve: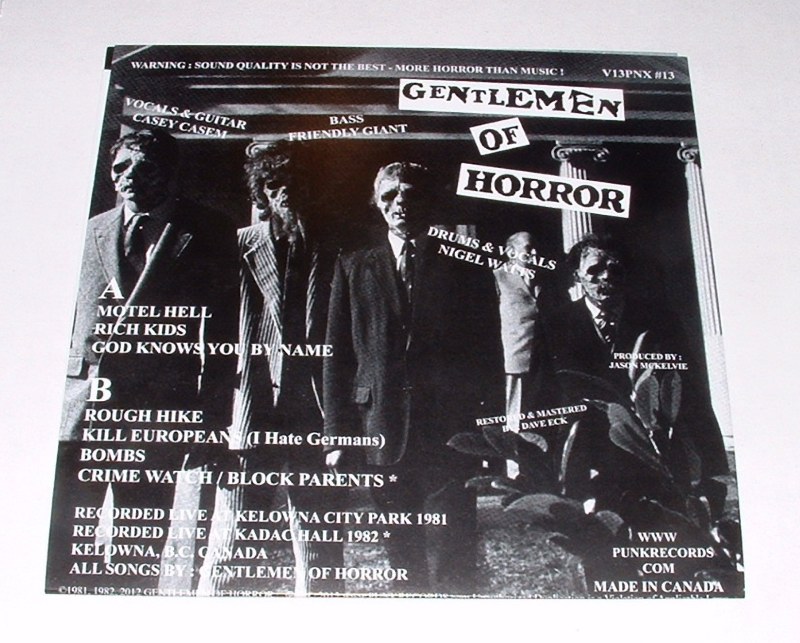 TEST PRESSING
GENTLEMEN OF HORROR - LIVE IN KELOWNA 7"
21 MADE WITH this EXCLUSIVE SLEEVE
Reviews:
Razor Cake
GENTLEMEN OF HORROR:
Live in Kelowna!: EP
Obscure Canadian punk from the early 1980s. From the information on the inside sleeve, they were a short-lived band, released one EP in their time, played some shows, pissed off the locals, and then disappeared. This record is two live recordings from 1981 and 1982. The quality is raw and unpolished, but it definitely captures the spirit of the time. Between songs, you can hear the audience yelling at the band, as well a the vocalist berating the city they live in and religion, as they tear into one song after the other before eventually being shut down. The songs are pretty good blasts of hardcore punk, and there's definitely the spirit needed to make it work. The 1982 recording, "Crime Watch / Block Parents" has a much rawer sound, almost like Disorder. Pretty damn good! How about reissuing the first EP? –Matt Average (Punk, punkrecords.com)
http://www.razorcake.org/record-reviews/gentlemen-of-horror-live-in-kelownaB
Razor Cake
GENTLEMEN OF HORROR:
Live in Kelowna: 7"
This record shouldn't even be possible. The factors involved fly in the face of logic. A small Canadian town in the early days of punk rock's transformation to hardcore, a concert held in a public park booked by a fourteen-year-old punk rocker, the same fourteen-year-olds resolve to hold the city to the contract when they tried to cancel it upon discovering that it was a "punk rock concert" and then the fact that someone bothered to think "We should record this" amongst the hail of threats and beer bottles from the audience. Well, all those things happened and the result (albeit thirty years later) is this record. Four of the five songs here were recorded at the above mentioned show in 1981, complete with verbal abuse from the crowd between tracks. The last song is a live track from a hall show in 1982. The sleeve warns that the sound quality is "more horror than music," but I was left in awe of the dark alchemy Dave Eck worked. It sounds every bit as vital as a punk record in 1981 should sound. I heard there is a GOH "complete recordings" type of release coming oon. I can't wait. –Ty Stranglehold (Punk Records, punkrecords.com)

http://www.razorcake.org/record-reviews/gentlemen-of-horror-live-in-kelowna
unlike the 2 two good reviews from razor cake -the fag at maximum rock n roll had this to say: