NxOxSx-NO ONE SPECIAL-LP punkrecords #6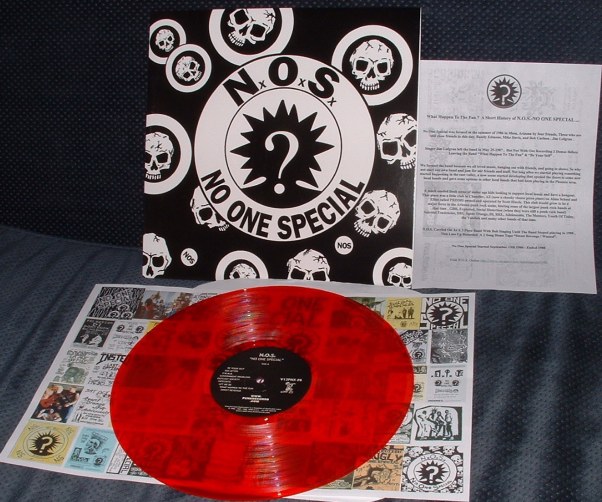 N.O.S. - NO ONE SPECIAL LP
To Place Order & Find Shipping Coast ,Request Bill- Email Me: NEKRON425@COMCAST.NET
Song Sample:
Round And Round
PUNKRECORDS #6
Format Released on : Vinyl
Insert Type : Large Insert
Color Wax : 800 Black Wax , 218 Red Wax (around 50 of the color destroyed during shipping Leaving only 218 )
this band existed from 1986-1988 in Mesa Arizona , they played the Arizona area only, and with all the great bands that toured though Arizona at the time , exploited , suicidal, JFA, RKL . If a major band went through there state NOS played. Very Unique In Sound , 7 Seconds & RKL Come to Mind, Very Very Great Music , Intelligent Lyrics too . Band Was Straight Edge , but they we're influenced by 7 Seconds & Washington DC Style Hardcore Musicly (not like the new york style straight edge), you would not think of the straight edge sound when you here this , this is hardcore punk !
218 Red Wax 800 Black Wax
4 Test Pressings (2 were Badly Scratched).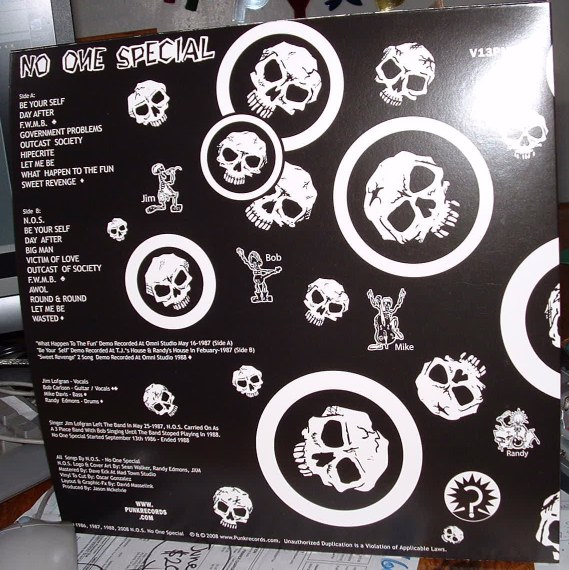 A CD Will Eventualy Be Released !
FOR USED AND RARE VINYL GO TO MY OTHER WEB PAGE :