DEMOB-CRIME THROUGH TIME LP PUNKRECORDS #3

SOLD OUT !!!! for Now
DEMOB-Crime Through Time LP
SOLD OUT
Song Sample:
No Room For You
PUNKRECORDS #3
Format Released on : Vinyl
Insert Type : Poster
Color Wax : Gold Wax
1100 GOLD WAX.
100 of the Gold Wax Come With A Crime Sleeve That is Hand Numbered & Blood Splatered (sold out)
10 Test Pressings
PUNK
30 Years Later 1978 U.K. Punk Band Finally Releases There First Album ,This Band Is Better Known In The USA For There One Track "No Room For You" On The Punk & Disorderly-Vol.1 Comp. This Album Contains 17 Songs, Every Song Rips ! There Is No Drag time On this Record ,Just Like Albums Used To Be . Essential Punk
LIMITED EDITION "CRIME SLEEVE" VERSION.
ONLY 100 MADE EACH HAND NUMBERED & PAINTED WITH BLOOD SPLATER EACH SLEEVE IS SLIGHTLY DIFFERENT.
DEMOB-CRIME THROUGH TIME LP ALT. "CRIME SLEEVE" VERSION (100 Made) Vinyl = SOLD OUT !!!!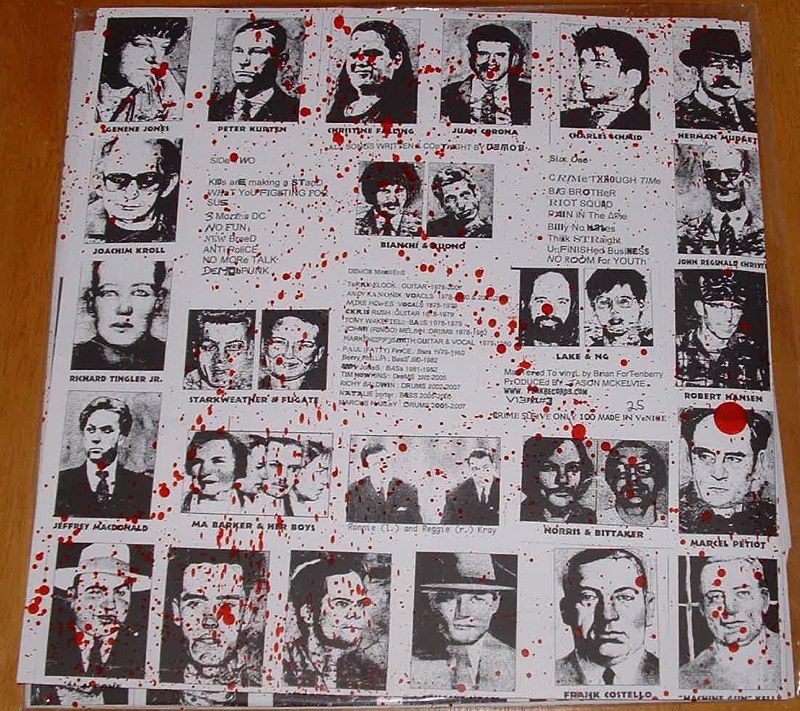 FOR USED AND RARE VINYL GO TO MY OTHER WEB PAGE :